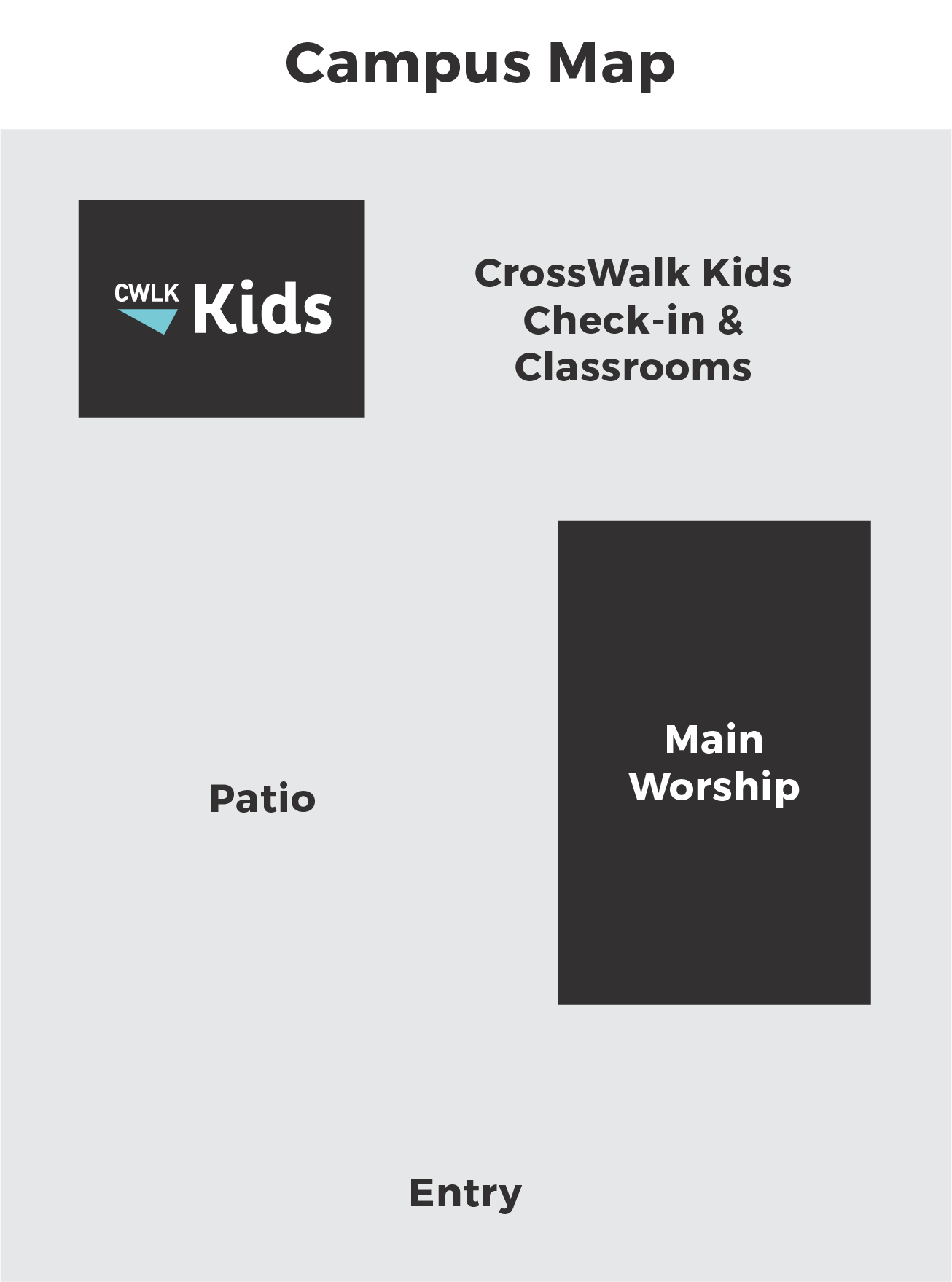 Welcome!
We're happy you're here.
CrossWalk Kids is led by a team of staff and volunteers whose passion is for children and whose vision is to connect kids and parents to Jesus and each other.
Our mission is to bring children into safe and age-appropriate worship where they GROW in faith, GATHER in fellowship, GIVE their all, GLORIFY God, and GO out with the gospel. We specialize in teaching infants through fifth grade. Partnering with families in raising their children to know and love their Savior, Jesus brings us great joy!
The Infant through Grade 5 classrooms are open during the 9:00 a.m. Sunday service (only) located at Chavez High School. We're following the same safety guidelines as main worship (wearing masks and maintaining social distance when possible). Masks are required to enter CWLK Kids for preschool age (3-5 years old) and above. Children in the Toddler (18-36 months) and Infant (0-18 months) classrooms are not required to wear them.
Be sure to check out the engaging online materials that you'd find at church right here! Here's how you can enjoy these videos and use the content provided as a family:
Watch the video together. Included are animated Bible stories, teachings, worship songs, and more!
Download the lesson questions and activity. Questions include conversations about the Bible story to allow you and your child to reflect on the biblical truth. Also included are coloring pages and fun activities to interact and apply the lessons to everyday life.  
Weekly Lessons, Videos & Activities
CrossWalk Kids Materials for 05/16/2021
CrossWalk Kids Materials for 05/09/2021
CrossWalk Kids Materials for 05/02/2021
CrossWalk Kids Materials for 04/25/2021
CrossWalk Kids Materials for 04/18/2021
CrossWalk Kids Materials for 04/11/2021
CrossWalk Kids Materials for 04/04/2021
CrossWalk Kids Materials for 03/28/2021
CrossWalk Kids Materials for 03/21/2021
CrossWalk Kids Materials for 03/14/2021
CrossWalk Kids Materials for 03/07/2021
CrossWalk Kids Materials for 02/28/2021
CrossWalk Kids Materials for 02/21/2021
CrossWalk Kids Materials for 02/14/2021
CrossWalk Kids Materials for 02/07/2021
CrossWalk Kids Materials for 01/31/2021
CrossWalk Kids Materials for 01/24/2021
CrossWalk Kids Materials for 01/17/2021
CrossWalk Kids Materials for 01/10/2021
CrossWalk Kids Materials for 01/03/2021
CrossWalk Kids Materials for 12/27/2020
CrossWalk Kids Materials for 12/20/2020
CrossWalk Kids Materials for 12/13/2020
CrossWalk Kids Materials for 12/06/2020
CrossWalk Kids Materials for 11/29/2020
CrossWalk Kids Materials for 11/22/2020
CrossWalk Kids Materials for 11/15/2020
CrossWalk Kids Materials for 11/08/2020
CrossWalk Kids Materials for 11/01/2020
CrossWalk Kids Materials for 10/25/2020
CrossWalk Kids Materials for 10/18/2020
CrossWalk Kids Materials for 10/11/2020
CrossWalk Kids Materials for 10/04/2020
CrossWalk Kids Materials for 9/27/2020
CrossWalk Kids Materials for 9/20/2020
CrossWalk Kids Materials for 9/13/2020
CrossWalk Kids Materials for 9/06/2020
CrossWalk Kids Materials for 8/30/2020
CrossWalk Kids Materials for 8/23/2020
CrossWalk Kids Materials for 8/16/2020
CrossWalk Kids Materials for 8/09/2020
CrossWalk Kids Materials for 8/02/2020
CrossWalk Kids Materials for 7/26/2020
CrossWalk Kids Materials for 7/19/2020
CrossWalk Kids Materials for 7/12/2020
CrossWalk Kids Materials for 7/05/2020
CrossWalk Kids Materials for 6/28/2020
CrossWalk Kids Materials for 6/21/2020
CrossWalk Kids Materials for 6/14/2020
CrossWalk Kids Materials for 6/07/2020
CrossWalk Kids Materials for 5/31/2020
CrossWalk Kids Materials for 5/24/2020
CrossWalk Kids Materials for 5/17/2020
CrossWalk Kids Materials for 5/10/2020
CrossWalk Kids Materials for 5/03/2020
CrossWalk Kids Materials for 4/26/2020
CrossWalk Kids Materials for 4/19/2020
CrossWalk Kids Materials for 4/12/2020
CrossWalk Kids Materials for 4/10/2020